Food
お料理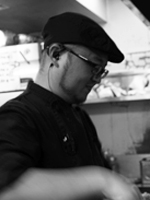 We never use chemical seasoning in our shop.
By combining wide variety of ingredients with Dashi, spice and herbs, our natural, clear, and rich in flavor dishes are crated.
We will spend time and effort for cooking so that you can appreciate our dishes.
We will continue to pursue our "only one" food and to improve our skill everyday. We would appreciate it if we could have your constant support.
Chef Shinnosuke Haga