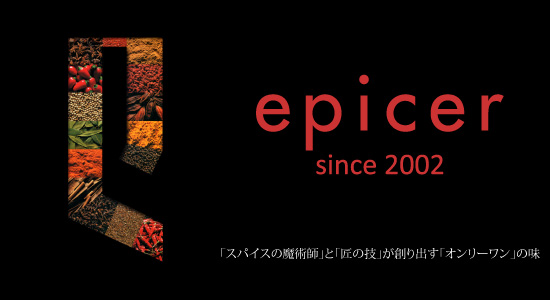 Exquisite Nouvelle Chinois and a fascinating wine party
Nishiazabu , very, close to Roppongi, is a special area with a chic atmosphere.
"epicer" is there, in Nishiazabu like a quiet hiding placer for adults.

Enjoy the "Only One" flavor, created by the fresh ingredients, by the magician of spice
and the master of craftsmanship,, with beautiful wine.
The dish presented like a French cuisine will surely delight your eyes and tongue.
Time passes away as you're tasting several kinds of dishes that must change your
fixed concept of Chinese food.
We have about 300 varieties of wine in our shop from reasonable up to gran vin ,
so, our wine list will surely amaze our guests, especially wine lovers.

Many private rooms having a calm and relaxed atmosphere are available for the
important moments or occasions in your life.
The accommodation is from 2~14 persons.
We hope you will make use of them with delicious wine and food.
News & Topics
We have partly remodeled inside of the shop.
We have finished making
the 2 semi-compartment rooms
in a chic and romantic atomosphere.
These fit the guests who feel like they want some privacy but the perfect private rooms
are too formal.
We would like to welcome you to our restaurant!
Here is the link for our business tie-up shop
"suite space Hug"
Here is the link for our business tie-up shop
"Ristorante CUM"
We have updated our
wine list
.(Sep. 2)
Reservation from WEB is
here